We provide custom decorated cookies, cakes and
cupcakes from Shaker Heights, Ohio.
We love serving our community and adding some sugar art to your celebrations!
March is booked. Now taking orders for April and May!
What are people saying about Sugar Arts Bakehouse?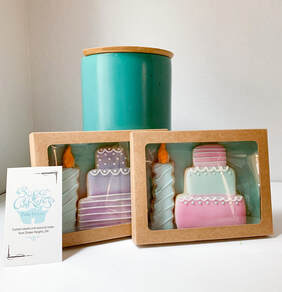 FAQ'S
(If you have a question that isn't answered here, just contact us!)
Becki Dina, sugar artist
​
440-785-7146
becki@sugarartsbakehouse.com
Q: Can you ship your products?
A: We can ship cookies!! A $10-$15 shipping fee will be added to the cost.
Q: I have a large party/event. Can you do large orders of cookies?
A: Yes! We can do any amount that you need (our last large order was for 25 dozen!), but please give us some extra time. For large orders, we ask for at least 3 week's notice, rather than the usual 5 days.
Q: Do you use natural ingredients?
A: Yes! All of our ingredients and flavorings are from natural sources. (The only exceptions are our food coloring gels and sprinkles.)
Q: Is there a minimum order for cookies and cupcakes?
A: Yes, we ask for a minimum order of 1 dozen.
Q: Can I send you a picture of the design I'd like that I saw online?
A: Yes!! We love to see what inspired you and what ideas you may have!
Q: Do you make gluten-free products?
A: If you need something that is gluten-free, please ask. We have done a few gluten-free orders and will be happy to accommodate you if we can.
Q: I need help figuring out what size cake to order. Can you help?
A: Yes! Let us know how many people you need to serve, and we can help you choose the best size. You can also click on the handy Cake Serving button on the Photo Gallery page.
---
Sugar Arts Bakehouse
Glencairn Road
Shaker Heights, Ohio 44122
440-785-7146


becki@sugarartsbakehouse.com